This Mother's Day Give the Moms in Your Life a Power Boost with the Latest in Portable Power – From Jump Starters to Power Stations
Every mother has superpowers. They can do a dozen things at once, have eyes in the back of their heads, and can cope with any emergency. Moms also seem to have vast stores of energy to get through their seemingly endless list of tasks, responsibilities, and activities. This Mother's Day give your mother a gift to boost her powers and make her days a bit easier.
Schumacher Electric has a wide array of products to manage an emergency, provide power on the go, and just make life more comfortable when you walk out your door. With Schumacher, mom doesn't always have to be the hero. We can come to the rescue if she has a roadside emergency, recharge her tablet before book club, and power all her tailgating accessories during a Saturday soccer game.
Your Mom Can Be Her Own Hero
A dead battery can happen to anyone, but for moms it can be especially challenging. Imagine a mom you know with a car full of kids. Then, when she tries to turn on the vehicle, she finds a dead battery. Maybe it's a hot day or the kids are especially cranky. Or maybe the mom you're picturing is older and alone in an unsafe location. In these situations, it's not always practical to wait for a tow truck or a good Samaritan to come to the rescue.
It's easy to give moms the power to provide their own rescue. Simply gift them a Schumacher SL1648 1250A Rugged Lithium Jump Starter and Portable Power Pack this Mother's Day. This jump starter features a compact size that fits in most center consoles and glove boxes, along with 1250 amps of jump starting power suitable for up to 6.0L gas and 3.0L diesel engines. It's easy to use and also features a USB port to charge devices like a cranky toddler's tablet. With this jump starter, mom will have the peace of mind of knowing a dead battery won't slow her down for long.
Another option for on-the-go moms is the CRAFTSMAN CMXCESM256 Portable Power Station and 1200 Peak Amp Jump Starter. With this tool, Mom can tackle a range of emergencies and emerge victorious. In addition to a powerful jump starter, the unit also serves as a portable power station, letting mom power a range of devices including smartphones, tablets, and power tools with the 12V DC port, 120V AC household outlet with 200W inverter, and four-port USB hub. Mom can also defeat a flat tire or a deflated beach ball with the built-in 100-PSI automatic air compressor.
With either of these handy tools, mom will be prepared for any roadside emergency that comes her way.
Take Mom's Seat on the Sidelines Up a Notch
For moms with active children, weekends are often spent on the sidelines cheering their offspring on to victory (or at least a participation trophy). This doesn't have to mean an uncomfortable camp chair under a blazing hot sun in the summer or shivering from a cold north wind in the winter. With a little help from Schumacher, you can help the moms in your life elevate their tailgating prowess and make their children's athletic activities something to look forward to.
Compact and lightweight, the Schumacher SL1638 Lithium Ion Portable Power Pack and 800A 12V Jump Starter will make any basketball, football, baseball, or soccer game more comfortable and a lot more fun. With the SL1638, there's no need to worry about a dying smartphone battery. The unit's 2.4A USB port lets you charge all of your mobile devices two times faster than a standard USB port. Mom will be able to make it through an all-day tournament with ease.
Moms Don't Stop When the Sun Goes Down
Unlike solar panels and sundials, mothers don't quit working when it gets dark. They are still busy, helping with homework, cooking dinner, or shuttling kids between ballet and karate. While moms have tons of superpowers, seeing in the dark isn't one of them. So, give a mom in your life a little help with the gift of a handy portable area light. The Schumacher SL923 LED Rechargeable Work Light is compact and powerful, easily able to illuminate any area where mom needs to boost the ambient lighting. It's perfect for emergencies, such as helping complete Timmy's class project during a power outage or shining a light on the hijinks of Susie's backyard camp out. And for those times when mom's smartphone is almost out of juice, the SL923 has a discrete USB output on the back capable of restoring a full charge.
Mom, the Green Warrior
Many moms are becoming green warriors to ensure their children will have a sustainable future. Whether this means solar panels on the roof, organic local produce in the refrigerator, or an electric vehicle in the garage, these moms are committed to saving the planet.
A busy mom will put many miles on the odometer as she runs from ballet lessons to soccer practice to the grocery store. With an EV, a busy Saturday of errands and children's activities mean mom may have to add a charge to her car while attending a birthday party or while sitting on the sidelines at a soccer game. With the Schumacher SC1455 Level 1 and Level 2 Portable EV Charger, mom can fill up almost anywhere. She can plug her EV into any 120V AC household outlet or 240V NEMA 6-20P outlet and charge up before she heads to her next destination.
The Power of Thank You
Unlike superheroes, moms rarely get accolades or blockbuster films based on their adventures. They don't have huge fan bases or cosplayers dedicated to replicating the outfit they wore to their last parent-teacher conference. However, you can show the moms close to you that their fan bases, while small, are devoted. This Mother's Day give her something that will make her life a little easier, give her peace of mind, and show her just how much she is appreciated.
The automotive landscape is in the midst of a revolution, shifting from gasoline-powered to electric vehicles (EVs) at a rapid pace. In fact, EV sales are projected to number nearly 24 million units between 2022 and 2030.[1]  Electric vehicle owners are at the forefront of this change, enthusiastically embracing the automobile of the future. And it's not just the cars they drive that these forward-thinking motorists want to change. They want their homes to evolve to accommodate their EVs.
One of the advantages of electric vehicles is their ability to "fill up" anywhere the driver can access electricity. However, today's EV drivers want to go a bit further, installing at-home dedicated EV chargers that allow powerful and rapid charging in the place where they spend most of their time—home. In fact, EV owners, more than 80 percent, overwhelmingly prefer to charge their EV at home.[2] And updating your home to integrate EV charging offers several advantages—faster EV charging, convenience, smart home integration, wireless monitoring, and added home resale value.
By 2030, 52 percent of new vehicle sales will be EVs.[3] That ensures that any investment you make to add EV charging capabilities to your own home will be a smart one. Not only will it add convenience to your life, but it will make your home more attractive to homebuyers who are increasingly likely to be EV owners themselves.
Schumacher Electric's Range of EV Chargers
Schumacher Electric has delivered innovative and reliable automotive products trusted by professionals and home mechanics for more than 75 years. Our range of Level 1 and Level 2 EV chargers follows this tradition, offering consumers the convenience of portable or at-home charging from a brand they can trust.
EV Series Level 2 Wall Chargers
The Schumacher EV Series is a line of Level 2 EV wall chargers that offers three configurations and the ability to customize the unit for maximum performance. The SEV1600HW is designed to be hardwired into your home's power system, the SEV1600P650 is compatible with a NEMA 6-50 outlet, and the SEV1600P1450 connects to a NEMA 14-50 outlet.[4] All three models offer you the convenience of charging in your own home or driveway at speeds up to eight times faster than a Level 1 charger. The units are also Made to be Integrated™ with Wi-Fi® and Bluetooth® and can be monitored via the SchuPower™ app or a smart home system. The charging gun for the EV Series has an SAE-J1772 (universal) connector that is compatible with most EVs and an interchangeable dock with dual docking capability.[5] All three models may be installed indoors or outdoors to match your needs and lifestyle. If installed indoors, a low-profile design and built-in cord management with the flexible cable cradle prevent the unit from cluttering up your garage. The 25-foot charging cable allows you to easily charge vehicles parked in your garage or driveway whether your charger is installed indoors or out.
Level 1/Level 2 Portable EV Charger
For on-the-go portable charging, it's hard to beat the Schumacher SC1455 Level 1/Level 2 Portable EV Charger. The unit offers the flexibility of both Level 1 and Level 2 EV charging, letting you charge up to three times faster than a standard Level 1 charger. To utilize Level 2 EV charging, connect the SC1455 to a 240V NEMA 6-20P plug. For Level 1 charging, use the included adaptor connected to a standard 120V NEMA 5-15 household AC outlet. The charging gun features a universal SAE-J1772 EV connector, which works with most North American EVs.[6] Designed for convenience and ease of use, the SC1455 has an industry-leading 28-foot charging cable, long enough to reach both bays of a two-car garage or from a garage wall plug to the driveway. Other features include an ergonomic design, a rubber cover to protect from water and dirt, built-in LED indicators, and integrated overcurrent and overvoltage protection.
EV Charging Levels
When you decide to add EV charging to your home, you'll be faced with a range of industry terminology that can be confusing to the standard consumer. The most important terms to understand are the three classifications of EV chargers—Level 1, Level 2, and Level 3.
We'll start with Level 1 charging. When you purchased your EV, it probably came with a Level 1 charger. These chargers plug into a standard 120V household AC outlet. They require no additional wiring or alterations to your home and are portable, allowing you to take them with you as you travel. However, Level 1 EV chargers offer the slowest rate of charging, usually adding only 3-6 miles of range per hour.
Level 2 chargers may be found in both residential and commercial settings. They have the advantage of allowing much more rapid charging than offered by Level 1 chargers. Level 2 EV chargers typically add 20-60 miles of range per hour, depending on the unit's specifications, your home's power system, and the manner of installation. This allows EV owners like you to completely replenish their vehicle's charge in a few hours. They can easily plug their vehicle in at night and have a full charge when they leave the next morning. And because the average EV owner travels less than 40 miles per day, they can often bring their battery to full in only an hour or two.[7] Level 2 chargers run on 208-240 volts, so they require a licensed electrician to install. They can be hardwired into the electrical system or plugged into a 240V outlet.
Level 3 charging, also known as DC fast charging, is only found in commercial settings. Running on varying high voltages, these chargers can add 60-100 miles of range in just 20 minutes. However, because of their energy requirements, Level 3 chargers are not compatible with standard home power systems.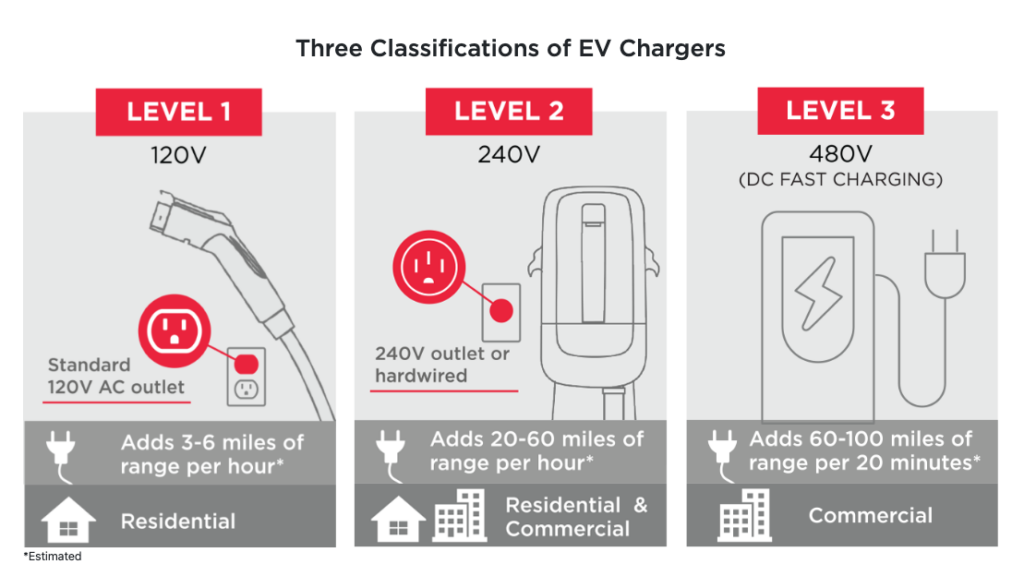 Ways to Install a Level 2 EV Charger
Before we begin, it should be noted that the installation of a Level 2 charger will in almost all cases require the services of a licensed electrician. In addition, it will probably be worth your while to find an electrician who specializes in or has experience with installing Level 2 EV chargers. The cost and difficulty of your installation will be influenced by several factors, including location, physical obstacles, and your home's existing power system. For example, a new home with a smart power system will more easily accommodate an at-home Level 2 charger. Older, lower-amperage power systems may need upgrades that will increase the complexity and cost of your installation.
There are three basic ways and two environments to consider when choosing where and how to install your Level 2 charger. First, determine whether you will install the charger indoors, such as inside a garage, or outdoors, such as on a freestanding post or an exterior wall of your home. The Schumacher EV Series models are raintight and water resistant, so they can accommodate either indoor or outdoor installation. Second, determine, perhaps with the advice of an electrician, how your new Level 2 EV charger will connect to your home's power system. Schumacher offers three installation options—hardwired, plug in with a NEMA 6-50 outlet, and plug in with a NEMA 14-50 outlet.
Hardwired vs. Plug-in
Hardwiring a Schumacher charger into your home's power system offers a number of advantages. With a hardwired connection you can employ a maximum amperage of 50A. This will allow you to get the fastest possible charging speeds offered by your EV charger and supported by your home's power system.
Alternatively, installing a 240V outlet in either a NEMA 6-50 or NEMA 14-50 configuration gives you the ability to easily replace the unit in the future or take your wall charger with you if you move. A disadvantage is a lower maximum amperage. The maximum amperage rating for plug-in Level 2 chargers is 40A.
It is worth checking your vehicle's maximum charging rate before choosing between hardwired and plug-in EV chargers. Some vehicles have a maximum charging rate below 40A, which would mean either hardwired or plug-in EV chargers would offer the same performance.
100A vs 200A Service
The power systems of most new or updated homes today offer 200 amps of service. However, many older homes still have 100A systems. To add an EV charger to a 100A system will either require the homeowner to upgrade the service to 200A, which can cost thousands of dollars or install an energy management device, which monitors power use and will discontinue vehicle charging if the home's power use approaches its maximum.[8]
Made to be Integrated™
Schumacher's EV Series Level 2 wall chargers are Made to be Integrated™, which means they are ideal for incorporating into a holistic smart home system. Although your Schumacher charger can be monitored and controlled independently with the SchuPower™ app, thanks to open API, Schumacher chargers can be incorporated into many smart home system interfaces. Wi-Fi and Bluetooth capability make connecting to you home network a breeze.
Life with Your Level 2 EV Charger
Once your Level 2 EV charger installation is complete, you are ready to fully embrace the EV revolution. Your home will be ready for years of home charging. Instead of spending thousands of dollars per year at the gas station, you will be able to economically "fill up" at home and leave the expense, fumes, and inconvenience of the gas pump in your rearview mirror—forever.
[1] "US EVs (BEV & PHEV) Sales and Sales Share Forecast: 2021-2030," https://evadoption.com/ev-sales/ev-sales-forecasts/, Accessed 27 April 2022. [2] Valderrama, Patricia, Boloor, Madhur, and Garcia, Samuel, "Electric Vehicle Charging 101," Natural Resources Defense Council, https://www.nrdc.org/experts/patricia-valderrama/electric-vehicle-charging-101, Accessed 27 April 2022. [3] Wayland, Michael, "Auto executives say more than half of U.S. car sales will be EVs by 2030, KPMG survey shows," CNBC, https://www.cnbc.com/2021/11/30/auto-executives-say-more-than-half-of-us-car-sales-will-be-evs-by-2030-kpmg-survey-shows.html, Accessed 8 April 2022. [4] The Schumacher SEV1600HW, SEV1600P650, and SEV1600P14-50 Level 2 EV Wall Chargers must be installed by a licensed electrician. Any changes to the wall charger's electrical settings must also be made by a licensed electrician. [5] Tesla® vehicles will need an adapter (sold separately). Tesla, Inc. is an independently owned and operated company. This product is not manufactured, approved, or endorsed by Tesla, Inc. [6] Tesla® vehicles will need an adapter (sold separately). Tesla, Inc. is an independently owned and operated company. This product is not manufactured, approved, or endorsed by Tesla, Inc. [7] Hardesty, Chris, "Average Miles Driven Per Year: Why it is Important," Kelley Blue Book, https://www.kbb.com/car-advice/average-miles-driven-per-year/, Accessed July 18, 2022. [8] Wiesenfelder, Joe, "What it Cost to Outfit 6 Homes with EV Chargers," Cars.com, https://www.cars.com/articles/what-it-cost-to-outfit-six-homes-with-ev-chargers-447239/, Accessed July 18, 2022.
Prepare for Spring with Schumacher – As winter gives way to spring, it's time to start paying attention to your lawn and garden once again.
Prepare for Spring with Schumacher – As winter gives way to spring, it's time to start paying attention to your lawn and garden once again. Before you start your springtime outdoor chores, it's best to make sure that your equipment is in working order and ready to tackle all the garden tasks on your list.
Schumacher can help you get the best out of your lawn and garden, whether you are tending a lawn that's the envy of your neighbors or planting a vegetable garden. We can help you charge and maintain your riding lawn mower's battery or power grow lights in your greenhouse.
Maintain Your Lawn Mower's Battery
Spring is the time of year when your lawn will emerge from its winter dormancy. As it begins to grow, make sure your lawn tractor is ready to work. While lawnmowers are essential for anyone with a yard, most of us will leave ours unused for months of the year. This risks a dead battery.
When should you charge your lawn tractor's battery? Schumacher recommends charging the battery before storing the lawn tractor for the winter, before starting it for the first time in the spring, and before starting if it has sat unused for an extended period.
Schumacher has a wide range of battery chargers and maintainers uniquely suited to prevent or remedy a dead battery.
Is designed especially for motorcycles, lawn tractors, and other light-duty batteries. It offers fully automatic charging—simply plug in and go—and is compatible with most battery types, including lithium. Once a connected battery is fully charged, it will automatically maintain that charge and preserve battery health.
Has a bit more power than the SC1586. In addition to light-duty batteries, it is strong enough to charge power sport, car, and boat batteries. It also offers fully automatic operation, and it is compatible with standard, AGM, gel, and deep-cycle batteries. For added convenience, the SC1588 features a quick-connect harness that allows you to connect the battery to the charger in seconds. The perfect edition to your spring battery maintenance toolbox.
This charger allows you to charge or maintain two batteries at the same time with a 2 amps of output per bank. Fully automatic operation means it's easy to use and it offers both clamps and ring terminals, giving you two ways to connect your batteries. This unit can be mounted permanently to a wall in your garage or you can use the hook to hang the charger outside your work area. It is compatible with standard, AGM, and gel batteries.
No matter which you choose, having a Schumacher battery charger and maintainer on hand will ensure your lawn equipment is in top shape and ready for whatever the season brings.
Give Your Vegetables a Boost
You've probably heard the phrase, "There aren't enough hours in the day." Well, sometimes your plants feel the same way. While springtime sees our days get longer, some gardeners like to give their seedlings and other plants a boost with a few extra hours of sunlight. If you're lucky enough to have a greenhouse, it is easy to supplement the hours of natural light you're given with grow lights, which are an economical and easy-to-implement solution. Greenhouse owners can also use grow lights to remedy uneven lighting, banishing the dark corners that are present even in these light-filled structures.
But what do you do if your greenhouse lacks AC power to run your grow lights? Traditional gas generators can supply power, but because they emit carbon monoxide, they are dangerous to use inside any type of structure. The fumes emitted by a gas generator can kill a person and your plants won't appreciate the fumes either. Even if placed outside your greenhouse, gas generators can still be a nuisance. They are quite loud, spoiling the serenity of your garden.
Schumacher has the solution for safely powering your greenhouse—a lithium-powered generator. Schumacher's lithium generators provide portable power on demand and because they are fume- and fuel-free they are safe to use indoors and operate silently.
Is an excellent choice for providing power to your greenhouse or portable power anywhere in your garden. In addition to grow lights, you can use the SL1467 to run a wide variety of electric devices, including fans, TVs, speakers, smartphones, and laptops. A built-in 1000W pure sine wave inverter means you can safely operate even sophisticated electronic appliances from your SL1467 lithium generator. With 880 Wh available, the SL1467 will run up to 35 hours on a single charge and it can be fully recharged in only 10.5 hours. You'll also have numerous output options with a Schumacher lithium generator. The SL1467 features two household 120V AC outlets, four USB ports, two 12V DC output ports, and a 12V DC accessory socket.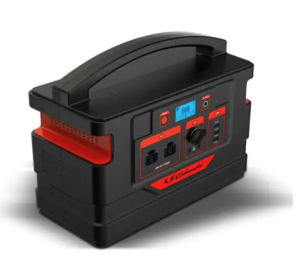 Enjoy the Season
With a little preparation and some help from a few Schumacher products, you're ready to enjoy the spring season without worry. Schumacher is dedicated to helping you get the most out of your lawn and garden equipment and ensuring it remains in top condition for many years to come.
Car batteries are powerful. They have to be, after all, to keep starters starting, air conditioners blowing, and all the lights and electronics inside your car energized. We rely on our car batteries for more than just vehicle movement, though. If you've ever plugged your mobile phone into the car's cigarette lighter, you've used the car to provide that power.
If you've ever wondered about the logistics of plugging in a laptop computer, video game console, or even a small refrigerator, you're not alone. Did you know that it's entirely possible to power these items with your vehicle's battery?
The process is more complicated than simply plugging an item into the lighter and hoping it works, however. Because of differences in the electrical current provided by the battery and used by these items, you need a special tool to make that conversion. That tool, a power inverter, can help make this happen.
Let's look at how power inverters work, why you need one, and how to safely connect them to keep your electronics or tools powered up and working.
What is a power inverter?
A power inverter changes direct current (DC) to alternating current (AC). Your car's battery uses DC to supply power to your electrical components; many household electronics, by contrast, use AC. The power inverter allows you to operate these devices with power from your vehicle by turning it into current that you can use.
In addition to leveraging automotive batteries for energy, power inverters are often used for "off-grid" living; larger power inverters are hooked up to banks of batteries and solar grids to power basic appliances.
Why do I need a power inverter?
The battery in your car supplies current on one circuit, going in one direction. This is why we call it "direct current." Alternating current, meanwhile, provides more power than what DC normally provides.
If you plan on using electronics such as DVD players, video game consoles, laptop computers, or other tools or appliances in your car, truck, or RV, a power inverter is required.
What kind of power inverter do I use?
Power inverters are available in a variety of sizes. Common variants include 1,000 watt, 3,000 watt, and 5,000 watt models. Many users choose the 3,000 watt option for the flexibility it offers. This inverter allows you to power standard small appliances. For larger needs, more wattage may be required.
Power converters can be small enough to plug into a cigarette lighter. You can also find devices that are big enough to require dedicated space in the back of your trunk until they're needed.
Power inverters are also available in both pure sine wave and modified sine wave options. Pure sine waves can provide better current fidelity than modified ones, but often at a premium price. Modified sine wave inverters have reduced efficiency and are often more affordable, but there are some devices—such as TVs—they may not be able to power.
How do I use a power inverter?
Depending on the model of your inverter and what you intend to run with it, using your power inverter looks different. For electrical loads up to 200 watts, you can probably plug the power inverter into the car's cigarette lighter. Common devices powered this way include:
Laptop computers
Small power tools
Most small appliances
Small (13") TVs
For larger energy needs—or for multiple items at once—the power inverter may need to be connected directly to your battery. If you want to power a load greater than 200 watts, the inverter should be wired directly to the battery to ensure safe operation.
Do power inverters drain car batteries?
The short answer: Yes.
The long answer, of course, is more complicated. If we assume that the battery is both fully charged and in good condition, it's possible that a 400W power inverter can be used without starting the car for around an hour before the battery is fully discharged.
To find out just how long the battery can last with any given power inverter, you need to do a little math:
Take the wattage being used (400W) divided by the voltage of your battery (12V) to see how many amps the inverter draws. 400 watts divided by 12 volts is 33.33 amps. Inverters can only convert power at around 90% efficiency, however. The inverter is really drawing 37 amps.
Typical car batteries have a reserve capacity of about 80 minutes (80 minutes at 25 amps). If you draw 37 amps with the 400W inverter, you'll completely discharge the battery in about 54 minutes or so: ((80 minutes x 25 amps)/37 amps = 54 minutes.)
For this reason, it's a good idea when using a power inverter to turn the car's engine on every 30 minutes to help maintain battery charge.
What features does my inverter need?
What you need for your inverter depends on what you plan on using it for, but some standard features can help make using your devices more convenient. Several models of power inverters are available with multiple 120V AC household outlets, useful for powering multiple devices at a time.
Another useful feature for power inverters is a USB port. This allows you to charge your mobile phone or other devices with the power inverter.
For heavy-duty needs—such as heavy power tools or multiple pieces of equipment—look for a power converter that allows you to easily connect or clamp to your car's battery.
Common safety features to consider when shopping for your power inverter include high-speed fans to keep the device cool, thermal protection, and surge protection. Quality-of-life upgrades, such as a low battery alarm or an LED indicator, can also help you safeguard both your battery and your devices.
Where can I find a power inverter?
If you've decided that using your vehicle's battery to run electronic devices, tools, and other appliances on your next camping trip or adventure sounds convenient, the next step is finding a power inverter.
Luckily, Schumacher Electric offers a wide selection of power converting devices to meet your needs; whether you're a contractor who needs a power inverter to provide some much-needed juice to your tools on an off-grid job site, or you're a video game enthusiast who wants the ability to play from the passenger seat, we can help. Find the right power converter product for your budget today.