Meet the Future: Add Intelligent EV Charging to Your Home
The automotive landscape is in the midst of a revolution, shifting from gasoline-powered to electric vehicles (EVs) at a rapid pace. In fact, EV sales are projected to number nearly 24 million units between 2022 and 2030.[1] Electric vehicle owners are at the forefront of this change, enthusiastically embracing the automobile of the future. And […]
The automotive landscape is in the midst of a revolution, shifting from gasoline-powered to electric vehicles (EVs) at a rapid pace. In fact, EV sales are projected to number nearly 24 million units between 2022 and 2030.[1] Electric vehicle owners are at the forefront of this change, enthusiastically embracing the automobile of the future. And it's not just the cars they drive that these forward-thinking motorists want to change. They want their homes to evolve to accommodate their EVs.
One of the advantages of electric vehicles is their ability to "fill up" anywhere the driver can access electricity. However, today's EV drivers want to go a bit further, installing at-home dedicated EV chargers that allow powerful and rapid charging in the place where they spend most of their time—home. In fact, EV owners, more than 80 percent, overwhelmingly prefer to charge their EV at home.[2] And updating your home to integrate EV charging offers several advantages—faster EV charging, convenience, smart home integration, wireless monitoring, and added home resale value.
By 2030, 52 percent of new vehicle sales will be EVs.[3] That ensures that any investment you make to add EV charging capabilities to your own home will be a smart one. Not only will it add convenience to your life, but it will make your home more attractive to homebuyers who are increasingly likely to be EV owners themselves.
Schumacher Electric's Range of EV Chargers
Schumacher Electric has delivered innovative and reliable automotive products trusted by professionals and home mechanics for more than 75 years. Our range of Level 1 and Level 2 EV chargers follows this tradition, offering consumers the convenience of portable or at-home charging from a brand they can trust.
EV Series Level 2 Wall Chargers
The Schumacher EV Series is a line of Level 2 EV wall chargers that offers three configurations and the ability to customize the unit for maximum performance. The SEV1600HW is designed to be hardwired into your home's power system, the SEV1600P650 is compatible with a NEMA 6-50 outlet, and the SEV1600P1450 connects to a NEMA 14-50 outlet.[4] All three models offer you the convenience of charging in your own home or driveway at speeds up to eight times faster than a Level 1 charger. The units are also Made to be Integrated™ with Wi-Fi® and Bluetooth® and can be monitored via the SchuPower™ app or a smart home system. The charging gun for the EV Series has an SAE-J1772 (universal) connector that is compatible with most EVs and an interchangeable dock with dual docking capability.[5] All three models may be installed indoors or outdoors to match your needs and lifestyle. If installed indoors, a low-profile design and built-in cord management with the flexible cable cradle prevent the unit from cluttering up your garage. The 25-foot charging cable allows you to easily charge vehicles parked in your garage or driveway whether your charger is installed indoors or out.
Level 1/Level 2 Portable EV Charger
For on-the-go portable charging, it's hard to beat the Schumacher SC1455 Level 1/Level 2 Portable EV Charger. The unit offers the flexibility of both Level 1 and Level 2 EV charging, letting you charge up to three times faster than a standard Level 1 charger. To utilize Level 2 EV charging, connect the SC1455 to a 240V NEMA 6-20P plug. For Level 1 charging, use the included adaptor connected to a standard 120V NEMA 5-15 household AC outlet. The charging gun features a universal SAE-J1772 EV connector, which works with most North American EVs.[6] Designed for convenience and ease of use, the SC1455 has an industry-leading 28-foot charging cable, long enough to reach both bays of a two-car garage or from a garage wall plug to the driveway. Other features include an ergonomic design, a rubber cover to protect from water and dirt, built-in LED indicators, and integrated overcurrent and overvoltage protection.
EV Charging Levels
When you decide to add EV charging to your home, you'll be faced with a range of industry terminology that can be confusing to the standard consumer. The most important terms to understand are the three classifications of EV chargers—Level 1, Level 2, and Level 3.
We'll start with Level 1 charging. When you purchased your EV, it probably came with a Level 1 charger. These chargers plug into a standard 120V household AC outlet. They require no additional wiring or alterations to your home and are portable, allowing you to take them with you as you travel. However, Level 1 EV chargers offer the slowest rate of charging, usually adding only 3-6 miles of range per hour.
Level 2 chargers may be found in both residential and commercial settings. They have the advantage of allowing much more rapid charging than offered by Level 1 chargers. Level 2 EV chargers typically add 20-60 miles of range per hour, depending on the unit's specifications, your home's power system, and the manner of installation. This allows EV owners like you to completely replenish their vehicle's charge in a few hours. They can easily plug their vehicle in at night and have a full charge when they leave the next morning. And because the average EV owner travels less than 40 miles per day, they can often bring their battery to full in only an hour or two.[7] Level 2 chargers run on 208-240 volts, so they require a licensed electrician to install. They can be hardwired into the electrical system or plugged into a 240V outlet.
Level 3 charging, also known as DC fast charging, is only found in commercial settings. Running on varying high voltages, these chargers can add 60-100 miles of range in just 20 minutes. However, because of their energy requirements, Level 3 chargers are not compatible with standard home power systems.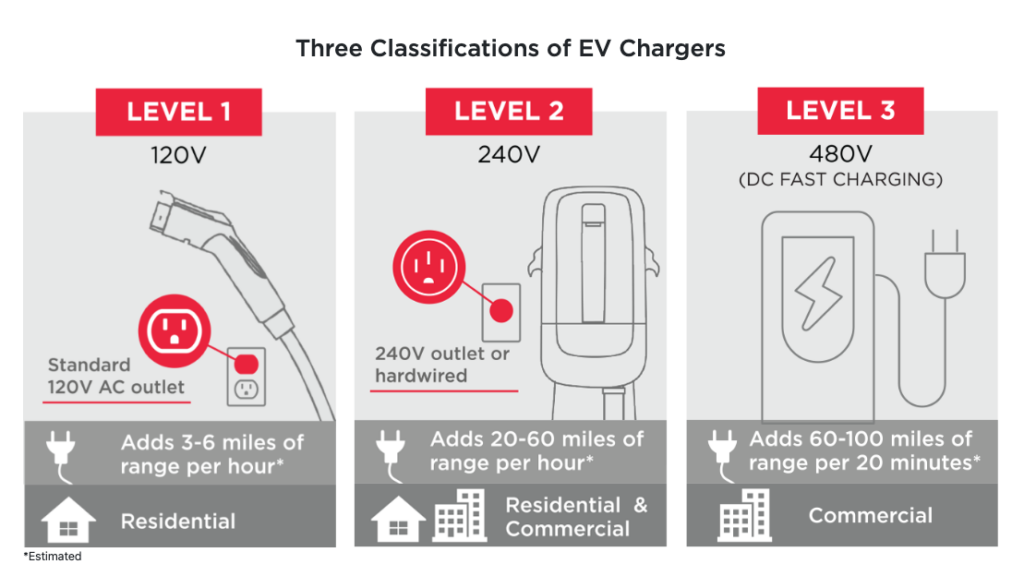 Ways to Install a Level 2 EV Charger
Before we begin, it should be noted that the installation of a Level 2 charger will in almost all cases require the services of a licensed electrician. In addition, it will probably be worth your while to find an electrician who specializes in or has experience with installing Level 2 EV chargers. The cost and difficulty of your installation will be influenced by several factors, including location, physical obstacles, and your home's existing power system. For example, a new home with a smart power system will more easily accommodate an at-home Level 2 charger. Older, lower-amperage power systems may need upgrades that will increase the complexity and cost of your installation.
There are three basic ways and two environments to consider when choosing where and how to install your Level 2 charger. First, determine whether you will install the charger indoors, such as inside a garage, or outdoors, such as on a freestanding post or an exterior wall of your home. The Schumacher EV Series models are raintight and water resistant, so they can accommodate either indoor or outdoor installation. Second, determine, perhaps with the advice of an electrician, how your new Level 2 EV charger will connect to your home's power system. Schumacher offers three installation options—hardwired, plug in with a NEMA 6-50 outlet, and plug in with a NEMA 14-50 outlet.
Hardwired vs. Plug-in
Hardwiring a Schumacher charger into your home's power system offers a number of advantages. With a hardwired connection you can employ a maximum amperage of 50A. This will allow you to get the fastest possible charging speeds offered by your EV charger and supported by your home's power system.
Alternatively, installing a 240V outlet in either a NEMA 6-50 or NEMA 14-50 configuration gives you the ability to easily replace the unit in the future or take your wall charger with you if you move. A disadvantage is a lower maximum amperage. The maximum amperage rating for plug-in Level 2 chargers is 40A.
It is worth checking your vehicle's maximum charging rate before choosing between hardwired and plug-in EV chargers. Some vehicles have a maximum charging rate below 40A, which would mean either hardwired or plug-in EV chargers would offer the same performance.
100A vs 200A Service
The power systems of most new or updated homes today offer 200 amps of service. However, many older homes still have 100A systems. To add an EV charger to a 100A system will either require the homeowner to upgrade the service to 200A, which can cost thousands of dollars or install an energy management device, which monitors power use and will discontinue vehicle charging if the home's power use approaches its maximum.[8]
Made to be Integrated™
Schumacher's EV Series Level 2 wall chargers are Made to be Integrated™, which means they are ideal for incorporating into a holistic smart home system. Although your Schumacher charger can be monitored and controlled independently with the SchuPower™ app, thanks to open API, Schumacher chargers can be incorporated into many smart home system interfaces. Wi-Fi and Bluetooth capability make connecting to you home network a breeze.
Life with Your Level 2 EV Charger
Once your Level 2 EV charger installation is complete, you are ready to fully embrace the EV revolution. Your home will be ready for years of home charging. Instead of spending thousands of dollars per year at the gas station, you will be able to economically "fill up" at home and leave the expense, fumes, and inconvenience of the gas pump in your rearview mirror—forever.
[1] "US EVs (BEV & PHEV) Sales and Sales Share Forecast: 2021-2030," https://evadoption.com/ev-sales/ev-sales-forecasts/, Accessed 27 April 2022. [2] Valderrama, Patricia, Boloor, Madhur, and Garcia, Samuel, "Electric Vehicle Charging 101," Natural Resources Defense Council, https://www.nrdc.org/experts/patricia-valderrama/electric-vehicle-charging-101, Accessed 27 April 2022. [3] Wayland, Michael, "Auto executives say more than half of U.S. car sales will be EVs by 2030, KPMG survey shows," CNBC, https://www.cnbc.com/2021/11/30/auto-executives-say-more-than-half-of-us-car-sales-will-be-evs-by-2030-kpmg-survey-shows.html, Accessed 8 April 2022. [4] The Schumacher SEV1600HW, SEV1600P650, and SEV1600P14-50 Level 2 EV Wall Chargers must be installed by a licensed electrician. Any changes to the wall charger's electrical settings must also be made by a licensed electrician. [5] Tesla® vehicles will need an adapter (sold separately). Tesla, Inc. is an independently owned and operated company. This product is not manufactured, approved, or endorsed by Tesla, Inc. [6] Tesla® vehicles will need an adapter (sold separately). Tesla, Inc. is an independently owned and operated company. This product is not manufactured, approved, or endorsed by Tesla, Inc. [7] Hardesty, Chris, "Average Miles Driven Per Year: Why it is Important," Kelley Blue Book, https://www.kbb.com/car-advice/average-miles-driven-per-year/, Accessed July 18, 2022. [8] Wiesenfelder, Joe, "What it Cost to Outfit 6 Homes with EV Chargers," Cars.com, https://www.cars.com/articles/what-it-cost-to-outfit-six-homes-with-ev-chargers-447239/, Accessed July 18, 2022.